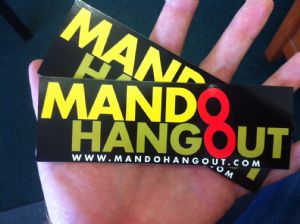 Want a Mando Hangout case sticker? There are two ways to get one!
First--you can buy a shirt from the store. We'll send you two stickers along with your shirt.
OR--you can mail a self-addressed stamped envelope to:
Mando Hangout Stickers
901 S Main St
Lakeport, CA 95453
And I'll send you two that way.
---
9 comments on "Mando Hangout case stickers are here--get yours free!"

Wilbur Says:
Friday, February 4, 2011 @3:40:52 PM
Wow! Great looking stickers!! Can't wait for mine.

Fstpicker Says:
Saturday, February 5, 2011 @11:50:36 PM
Thank you Eric!!

Jeff

Jan Holden Says:
Thursday, February 10, 2011 @8:44:23 AM
Would a self addressed envelope from the UK with UK stamps on it be accepted in the USA ? i wonder !

schlange Says:
Thursday, February 10, 2011 @9:29:03 AM
No idea! You could order a shirt (mandohangout.com/store/) and get the stickers for free with it. Or maybe send a few bucks to cover postage?

PaulR Says:
Saturday, February 12, 2011 @8:34:33 PM
You will need U.S. stamps. I think I'll check to see if there are any sources here in Kingston. It would be easy enough in the summer - all I'd have to do is cycle to the Wolfe Island ferry, cross Wolfe Island (11 km), and take the little ferry to Cape Vincent, NY. Get a good, easy ride, the stamps, and maybe an ice cream, too. Unfortunately, the ferry doesn't run in winter.

un5trung Says:
Monday, February 21, 2011 @8:45:29 AM
My eyes read:
Mango Handout
must be a dyslexic thing, Am I dyslexic? Didn't think so, but how many other people see Mango Handout? Prob'ly just me.

EBMando Says:
Wednesday, March 2, 2011 @8:34:04 AM
I saw Mando Hangout, but my eyes do things like that to me a lot......;-)

rossmando Says:
Friday, March 4, 2011 @6:06:54 PM
Hello ,I ordered a shirt last week,and was curious when it may be shipped..thank you Ross Collins Melbourne, Ar.

Susanne Says:
Saturday, May 14, 2011 @2:06:07 PM
I just ordrered a tee to get some... the tee ws very good looking too:)
You must sign into your myHangout account before you can post comments.