Posted by schlange on Friday, January 13, 2012
Hi Everyone,
This Tuesday from 5-6:30PM PST we're doing our first-ever ​multi-instrument ​​online workshop! Teaching the workshop will be the three founding members of the Nashville Music Workshop: Megan Lynch (fiddle), Ned Luberecki (banjo) and Stephen Mougin (guitar).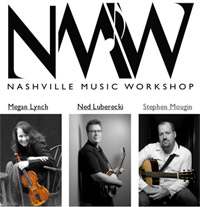 These three have taught bluegrass jamming all over the world and now they're teaching it to you in the comfort of your own living room. They will teach you a couple classic jam songs and break down the role of every instrument, even showing you some cool licks to add to your breaks and fills. They'll cover kickoffs and endings and how to use the capo properly. There will also be some discussion of unspoken jam etiquette and how to read musical cues on the fly. You don't need any special software or cameras. But you can ask all the questions you've ever wanted to ask about bluegrass jamming or even band dynamics. This is a groundbreaking way to get your jamming chops up and learn from the experts!
Sign up for a seat--then invite a friend over who plays another instrument, so you can both learn! Fiddlers, banjo pickers, guitarists, mandolinists, reso guitarists, and bass players can all learn something from this comprehensive workshop.
Registration is $20--sign up now, as it's sure to fill up!
​Got questions? Check out the Workshops FAQ page.
---
Be the first to comment on "Multi-Instrument Jam Workshop this Tuesday, Jan 17th"
You must sign into your myHangout account before you can post comments.