Posted by schlange on Thursday, January 27, 2011
Hey, it only took a few years, but we finally got around to it! Go to Members>Groups to start using the new groups feature.
The main mission of "groups" is simple: let Hangout members form interactive communities based on shared interests.
A quick introduction to groups:
Members can now create and join groups. Groups can be "open" (meaning everyone who wants to join can) or "approval required" (meaning an administrator has to approve your request to join).
Members of groups can link site content to a group--"tagging" it for a particular group. All content on the site can be linked to groups, including forum topics, blog posts, photos, MP3s, videos, classified ads, etc.
Members can post to, and comment on, the group blog.
Being notified of new group content is easy. Each group has an RSS feed of linked content, plus group members can choose from various subscription options so they can be notified via email of new group content if they wish.
Group administrators can send PMs to all group members.
If you have any suggestions, or find any bugs, feel free to post them in the Web Site Problems or Suggestions forums.
Enjoy! Go forth and group!
---
4 comments on "Groups feature now live!"

Gerry Cassidy Says:
Monday, January 31, 2011 @8:58:31 AM
Only 10 pics allowed to be linked to a group? That's kinduva bummer.

schlange Says:
Monday, January 31, 2011 @9:27:43 AM
Nah, you can link all you want! Linked content is paginated, and you can have as much linked content as you desire.

Gerry Cassidy Says:
Monday, January 31, 2011 @11:28:22 AM
Excellent!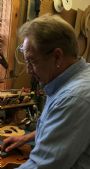 MontanaLutherie Says:
Monday, January 31, 2011 @2:11:06 PM
This is really great, however I don't believe my RSS feed thingy is working as when I hit it, just a page showing the link comes up...perhaps because I'm the administrator?
You must sign into your myHangout account before you can post comments.