Posted by fbounds
[download]
- Play count: 2182
Size: 3,721kb, uploaded 12/30/2010 1:11:50 PM
Genre: Bluegrass / Playing Style: Unknown/None Chosen
I decided to tinker around with some multitracking a while back. I have always liked St. Anne's Reel and decided to record it. I played the melody on Resonator Guitar and Mandolin and play some guitar rythym for it. I played the tune a little more slowly and deliberately than it is usually played. It changes the feel of the tune a bit. I played a 1981 Carlson/Flatiron mandolin A5-2 on this recording. Hope you enjoy it.
---
4 comments on "St. Anne's Reel"

ccravens Says:
Saturday, January 1, 2011 @8:18:50 AM
Nice job. Very tasteful.

ccravens Says:
Saturday, January 1, 2011 @8:20:28 AM
BTW, I have an '84 Carlson Flatiron A5-Jr. that I love.
The sound is woody and awesome.

fbounds Says:
Sunday, January 2, 2011 @4:34:06 AM
Thanks! I love the Flatirons. Steve Carlson designed and built some really great mandolins and he assembled a good crew to build them.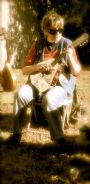 Bassora Says:
Wednesday, January 5, 2011 @4:15:16 PM
Oh, wow, this is fantastic. And I like it better played a little slower.
Post more.
The public wants more.
You must sign into your myHangout account before you can post comments.