Big Muddy: M-11w
Submitted by S_Heriger on 11/4/2014
Where Purchased: Online direct
Year Purchased: 2014
Price Paid: 840 ($US)
Sound
I love the clear, focused sound. The M-11 is everything it's advertised to be, and more. I play a lot of Old Time and Celtic, and this is the perfect instrument for my needs. The tone is punchy enough to cut through the crowd, but still sings sweetly when need. Great sustain as well.
Sound Rating: 10
Setup
Excellent set-up. With a very, very minor tweak of the newly-installed strings, this was ready to play within minutes of arrival in the mail.
Setup Rating: 10
Appearance
It's friggin' gorgeous. I paid a bit extra to have Mike add a darker stain vs. the natural clear finish he usually does on mahongany, and I really love it. Big Muddy Mandolins are hand hewn and designed to look like hand-crafted instruments.
Appearance Rating: 10
Reliability
Hardware is top notch, although I may upgrade to a cast tailpiece at some point. This is a great jam instrument.
Reliability Rating: 10
Customer Service
Mike Dulak runs a first-rate company, and personally responds to your email questions and special requests. Great communication from start to finish. He even sent me a photo of the partially-completed instrument while he was working on it.
Customer Service: 10
Components
Everything seems rock solid. I expect to have years of use from this well-built instrument.
Components Rating: 10
Overall Comments
My brand new Big Muddy M-11w (wide nut) with a very unimpressed Murdock. I asked Mike to make the finish a bit darker than the normal natural tone and he did a nice stain job for a very reasonable additional fee.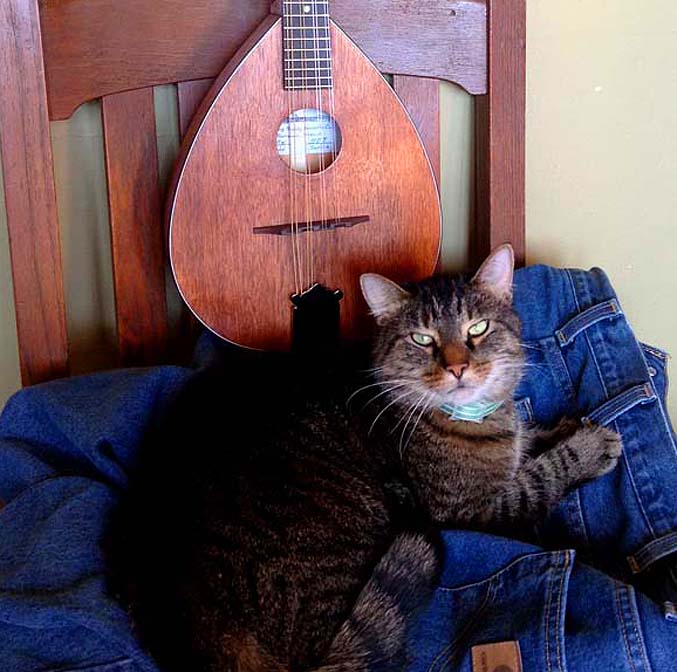 Overall Rating: 10